Think, but not make thoughts your sole aim;
Dream, but not make dreams your sole master;
Bath in a different light than the light of the day;
Fathom the night, it cheats time and makes reality sleep.
I was born in 1963 in Athens, Greece and attended throughout my youth one of the leading Grammar schools in the country, Piramatiko (school of the Kapodistrian University of Athens), the state school dubbed by the media as the early educational breeding field of Prime Ministers of the Hellenic Republic. The frequent encounters over many years at the street terrace of the legendary Dolce Patisserie opposite Piramatiko with the great Greek poet and Nobel Prize in Literature laureate in 1979 Odiseas Elitis firmly tagged the intellectual armour and luggage of my existential journey into adult life.  Elitis together with Constantine P. Cavafy (Kavafis), Giorgos Seferis, Arthur Rimbaud, Thomas Stearns Eliot and Dylan Thomas have been the profound influences in my own timid attempts in poetry and writing.
I received my BSc in Economics from the Athens University of Economics and Business. In 1987, I decided to part form the Big Blue and the liberating light of the Attiki region and my beloved Aegean islands being lured by the Infinite Grey of a little corner of Northern Europe in my quest to further educate myself. I read for an MSc and PhD in Economics at Birkbeck College, University of London, UK. I was privileged enough to be educated by many esteemed academics but I can effortlessly single out two prominent figures that influenced my intellect, Professor Ron Smith and Professor Dennis Snower. Professor Stephen Satchell, an eminent mathematical statistician, was my PhD supervisor. The collaboration with Dr Hector Sala has matured over the decades into a close and enduring friendship. Dr Marika Karanassou is my closest co-author and inspiration as well as my lifelong partner. Her (not so little) brother, Professor Menelaos Karanasos is also occupying a significant part of my academic and private life.
Research consists of seeing what everyone else has seen and thinking what no-one else has thought.  Sir Isaac Newton wrote that "he stood on the shoulders of giants". In my modest academic endeavours, I was swayed by the diverse pillars of the theoretical corpus erected by anarcho-communists such as Michael Bakunin and Pyotr Alexeyevich Kropotkin, communist Karl Marx, American institutionalists such as Thorstein Veblen, John Commons and Wesley Mitchell, the philosophy of Arthur Schopenhauer, Friedrich Nietzsche and Ludwig Josef Johann Wittgenstein, the works of Antonio Francesco Gramsci, Michal Kalecki and John Maynard Keynes. The latter, famously and brilliantly summing up my critical stance to jejune mainstream economics: "Capitalism is the extraordinary belief that the nastiest of men for the nastiest of motives will somehow work for the benefit of all.
After a 6-year spell as a teaching/research fellow at Birkbeck College, University of London, I joined Cass Business School, City, University of London, UK, in 1996 initially as a Lecturer, then promoted to Senior Lecturer and in 2006 to tenured Professor with a personal Chair in Mathematical Finance and Financial Engineering.
At the start of my long tenure at Cass Business School, I did design and launch in 1996, with the generous financial support of the Corporation of London, the niche Masters in Mathematical Trading and Finance, a worldwide first of its kind in the specialist education of the valuation, trading and risk management of financial derivatives. Ever since and up until 2017, I was the Director, Admissions Tutor and Module Leader of several cutting edge, critical and thought provoking courses.  I have overseen en route the graduation of more than a thousand of talented students, many of whom had subsequently embarked in stellar careers in the Finance industry across the globe. I was also involved in the organization and module design of other Finance degrees at the early stage of Cass Business School's expansion of its Masters degrees portfolio. The sole supervision of 15 bright Doctorate students has been a rewarding experience; among them, Kar-Hei Lam, Spyros Mesomeris and Hugh Patience were particularly dear in my heart for their mentality and ethos.
I did run several training courses for executives and senior personnel of major investment banks, worked as a consultant and was appointed as a visiting Professor in the Athens School of Economics and Business (2001-2009) and ALBA (2005-2010) in Greece.
In 2006, I became one of the founders of the electronic, peer-reviewed scientific journal Quantitative and Qualitative Analysis in Social Sciences (QASS), in which I act as the Finance Editor.
The Great Recession of 2008-09 and its ominous aftermath together with the arrogance, infallibility and impunity of the main protagonists-in the financial sector, academia and upper echelons of public governance- made me to rewrite my research agenda. It may be all right letting yourself go for a while, as long as you can get your self back. Every exit leads to a new entrance. My reconfigured focus became the investigation of the anatomy, apparatuses and consequences of the neoliberal, highly-globalised, monopoly/finance mode of capital accumulation and distribution. Everything has been thought of before, the challenge is to think of it again. I am fully aware that a statue has never been set up in honour of a critic to the incumbent paradigm however flawed proved to be and devastating for the prosperity of the bottom 90% of the income distribution.
In January 2019, I decided to be employed on a reduced service academic contract at Cass Business School. As the German philosopher Arthur Schopenhauer wrote, the shortness of life, so often lamented, may be the best thing about it. After all, committed academics rarely and truly retire, they just lose their faculties. At that stage of my life, I felt that it is necessary to be underemployed if you aim to continue doing something rewarding and potentially significant with your research; breaking free from the stranglehold and insipid demands of the toxic Research Excellent Framework (REF)-and its previous variations like the Research Academic Exercise (RAE)- which have rendered academic freedom and joy in carrying out research into an alienating publications Fordism.
I always have been an avid traveller, having visited with my partner a large number of wonderful and exciting places across the globe, mingling with locals, observing and admiring fascinating cultures and traditions.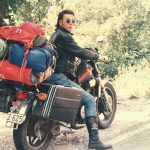 Our motorcycle diaries across Europe may not be as famous as the ones by Ernesto "Che" Guevara and Alberto Granado but nevertheless, replete with stupendous entries
Our adventures across the Aegean sea with our own big Rigid Inflatable Boat (RIB) named "Granma" certainly do not emulate the voyage of the "Los Expedicionarios del Yate Granma" (82 members of the 26th of July Movement including the leader Fidel Castro, Che Guevara and Camilo Cienfuegos) but were full of excitement and purpose. There is something mystical about going to the sea as a skipper; self-discipline and humility are required.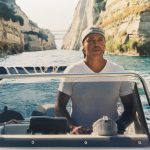 What stands out as a unique experience is our seven times stays in Cuba travelling repeatedly on our own throughout the island. A truly unforgettable and transforming moment was listening, at a close proximity, to the last public address on the 1st of May 2006 of Fidel Castro, the legendary Comandante-En-Jefe and an exceptionally compelling and eloquent orator, at the Plaza de la Revolution in Havana in front of at least 1 million people. His famous words of 1953 repeated on that very day were vindicated in my psyche: "I know that the regime will try to suppress the truth by all possible means; I know that there will be a conspiracy to bury me in oblivion. But my voice will not be stifled-it will rise from my breast even when I feel most alone, and my heart will give it all the fire that callous cowards deny it…Condemn me. It does not matter. History will absolve me."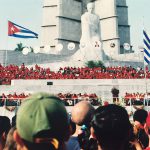 I was lazy not to play any sport with dedication and commitment, although I am a competent swimmer, a "comfortable couch sitting sports aficionado" describes better my whole attitude. I was a toddler when my uncle, Professor A.G.Mamalis, seduced me to the vanity of Manchester United FC in the vicinity of Old Trafford and since my adult life, I am a committed "Red Head". I was captivated watching in action legends of my most beloved sports: Ayrton Senna in F1 motoracing, Valentino Rossi in MotoGP, Diego Maradona in football (and more recently, Christiano Ronaldo)  and Michael Jordan in basketball. Bjorn Borg in tennis, Usain Bolt in track and field athletics and Tom Brady in American football fill the rest of my sports pantheon. I passionately followed for more than 20 years the volleyball career (both indoors and on the beach) of my partner and have vivid memories of heated exchanges on the spectator stands with her father who was also a fervent fan.
Music (vinyl collector of Rock of any variant, 50's-60's Jazz and 60's Soul) and Film (European realism/new wave and "method" acting) make me forget the din of the world. I was allured to cooking ever since my partner taught me how to make a delicious, herself-improvised, Pomodoro sauce at Souya beach in the south part of Western Crete next to our big motorbike and sleeping tent (our million-star hotel as Marika's father used to tease us) with minimal cooking gearing but impassive mouths. Gourmet cooking gradually became a ritual; it relaxes me and fills at the same time a daily void in ours, friends and family, stomachs. I still aspire to become a Michelin-starred chef but I am sleepwalking since I cannot come to terms with butter and eggs.
My not-so-secret indulgencies are fine wine ("Old World", the older the better), single malt whisky (distilled at Speyside, Scotland and away from peaty, smoked and rubber smelling varieties) and Cuban cigars. My enduring problem is reconciling my gross habits with my net income. I am reassured though that I have enough money to last me for the rest of my life unless I continue spending.
What can you write about your life with your treasured partner who has been suddenly diagnosed with an aggressive form of Multiple Sclerosis (MS), an idiosyncratic, debilitating and incurable disease, which has made her wheelchair bound? Why not me instead is my spontaneous answer. Reality leaves a lot to the imagination and the best thing about the future is that it comes only one day at a time.  MS has certainly taken away many of our liberties but not our freedom. We are doing our most fulfilling research work together and drive regularly across Europe with our comfortable WAV. We are splitting our life between our two houses next to the sea in Fairlight, East Sussex, UK and Alepohori, in the west of Attiki region in Greece. I am a devoted and tend to believe, an occasionally skilful carer, distrusting any advice that contains the words "ought" or "should".  I am starting off every day with a smile and persevere to get it over with one. I have the audacity of hope. I am now more convinced than ever that angels can fly because they take themselves lightly.